Chef Asfaux in jail !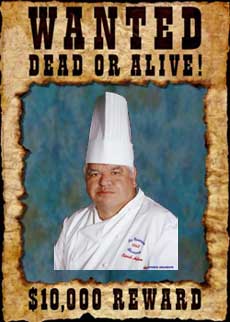 "Listen, I know that you are very busy but couldn't you find some availability to coach a tasting workshop in the scope of " The Week of the Taste ", organised for the 18th year in a row by the columnist and television-man Jean-Luc Petitrenauld ?"
I answered " OK, I have already participated to the week of the taste in schools and in hospitals with the aim of discovering gustatory emotions before our palate is totally re-shaped by Mc Donald's ...
I am then involved in a project called "Rehabilitation by the taste" in collaboration with GEPSA (public administration in charge of the prisons). This project stated 4 years ago, in the prison of Nanterre (Paris area).
This year, the programme was implemented in the prison of Chateaudun (Eure et Loire, south-west of Paris) in collaboration with Olivier Foresto, responsible for the professional training in prison life.
It was also the opportunity to work with some known people : with the too funny for words Marcel Fraudet, this chef with multiple talent, with Jean Bretagne, one of the trail-blazers in "bio" cuisine, with Jean Pierre Denis, Nina Tardiff and of course with Philippe Gardette who should be in charge of supplying with food and of the smooth running of the process.
I had decided to prepare nice dishes of horseradish remoulade topped with thin slices of smoked fish, a few sprouts of leek and of red cabbage and, at the last moment a splash of hibiscus vinegar
I then arrived a few days later at our meeting point : the new hotel Balladins at Donnemain Saint Mames, near Chateaudun. I was expected and I received a nice welcome from the executive manager of the hotel. She showed me the room booked for me that appeared to be a modern and comfortable one.
I waited a little time and the whole "band" arrived together with Daniel Bourges and the pretty Patricia Bouvet, from GEPSA and with Daniel Legrand, representative of the prison public administation and also together with Olivier Foresto we moved to a close restaurant to have dinner. Then we went to beddy-byes because the following day was supposed to be a long one !
Standing-up at 6:30 AM ! We had planned to meet up at the prison gate at 8:00 Am after breakfast.
After the numerous standard controls, we are in a large room, a kind of a gymnasium where Philippe Gardette had installed cloakrooms, work tops, fridges, etc...
Until 10:00 AM, we prepared the organisation of the tasting and I started to set the plates on the tables for the arrival of the first group (Philippe had asked me to forecast approximately for 50 people but at the end of the day, 160 dishes had been tasted).
Everything went very well and we all got on to the best, prisoners and us. Number of them asked questions about our venue and about the quality of what we have planned to give to them for lunch.
By the end of the morning, the local member of the parliament even paid us a visit because he was interested by this experiment. In brief, it was a good day, devoted to the listening of each other.
We went back to the hotel and had dinner in a nice inn of Brou ; Philippe asked me, before my going back to home, to attend the evening of the national prize-giving ceremony at the Theatre Edouard VII, scheduled on the following monday evening because this initiative had been nominated to compete among the best 5 projects in France and the jury was made of the best profesionals in France and of some VIPs.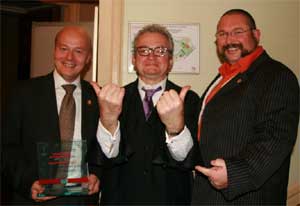 This story ends this somewhat rainy monday evening, sitting at the 5th row in this nice theatre managed by Bernard Murat.
On stage, Jean-Luc Petitrenaud as the master of ceremonies, with Yolaine de la Bigne, the pretty journalist, affable as usual, came to explain to us the outstanding success of this project born from his imagination 17 years ago : the virtue of good food "à la française" and the defence of the taste. Then came on stage a few VIPs for the defence of this noble project : Patrick Poivre d'Arvor, surprising of simplicity and of sincerity, to talk to us of his attachment to Brittany. A true passion for the quality of the products of his land. Then, our minister of national education, Xavier Darcos came to make a speech for the defence of the incorporation of the taste in the "French living" style and for the interesting experiment of training workshops in our prisons.
Yann Queffelec, one of the inimitable minstrels of the French litterature, followed ; during the whole evening, he charmed us with his witty remarks. And what to say about Laurent Cabrol who came and explain to us his attachement to all French countries, still so impressed by his past experience through the numerous shots for the former television series "Bonjour la France".
Then, came on stage Michel Boyon, president of the CSA (control body of the audio and visual media) and finally Anne-Sophie Pic, designated by her peers as the "Chef of the Year", deserving representative of the Pic dynasty, this superb 3 star Michelin retaurant, settled in Valence (between Lyon and Marseille).
The first results for the trophy :
"National chef for the Week of the taste"
What a surprise when Jean-Luc Petitrenaud called Philippe Gardette and Olivier Foresto as the happy elected ones in order to be rewarded for their commun project : rehabilitation by the taste at the prison of Nanterre and of Chateaudun.
They received their trophy with some emotion from Yann Queffelec, under an hearty applause from the whole room.
Then the other rewarded winners followed :
Category "Food and catering trade" :
Edouard Rocher, a young pork butcher, settled in Nancy at the butcher shop "Edouard", for its outstanding traditional black saussage.
Category "Food processing industry" :
The sardine canning manufacture called "La Quiberonnaise", in Quiberon (Brittany), represented by Bernard and Thierry jourdan, for the exceptional quality of their products, since several generations.
Category "Farmer" :
Alain Rattalino, of "Le Potager de Porquerolles" in an Mediterranean island, close to the French coast.
This amazing farmer only sales, on its stall, the production of its soil. Of course, he does not know what "bio" means because its products grow naturally according to "Mother Nature" wishes.
Category "Craftman" :
Georges Riviere, an extraordinary character, a kind of an hermit of the 1968's, with a shaggy hair who does not find a better solution than growing saffron in his land at Fromental in Limousin (south west of France)and who takes enough resources despite its tiny production.
And to finish with, in category " Teacher " Philippe Michel, a primary school teacher, who in the Sainte Clotilde school in Paris (7th arrondissement) teaches to his 5-6 year old kids how to choose foodstuff on open markets and also, through tasting the ones found in their quests, how to make their taste be more and more open to new savours.
This ceremony ended with a cocktail party in an excellent mood. The last thing we had to do was to celebrate that success. By chance, one of my friends is setlled for ages at a few cable lenghts away from the theatre (Restaurant les Baccantes); we ended the evening there with the feeling of having given some of our time for an major project for us and our relatives in the future : preservation of the Taste !
Some addresses at random
Theatre Edouard VII
10 place Edouard VII
75009 PARIS
+33 (0)1 47 42 59 92
Restaurant « Les Bacchantes »
21 rue Caumartin
75009 Paris
+33 (0) 1 42 65 25 35
Ecole Sainte Clotilde
77 rue de Grenelle
75007 Paris
+33 (0) 1 45 48 72 19
La Quiberonnaise
Conserverie
56172 Port-Maria
phone +33 (0) 2 97 50 12 54
fax +33 (0) 2 97 50 27 19
e-mail address : mail@laquiberonnaise.fr
Boucherie Charcuterie Edouard
Place Henri Mengin
54000 Nancy
+33 (0) 3 83 32 15 96
Hotel Balladins de Donnemain Saint Mames
lieu dit La varenne Hodier (RN 10)
28200 Donnemain
+33 (0) 2 37 66 30 00
Workshops animated by our friend Jean BRETAGNE
the Bio, the Wok , pasta and bread, vegetables, seaweeds etc
Jean Bretagne
17 rue des Champs Roger
78400 Chatou
+33 (0)1 30 71 69 58
Our twe other friends from Fromental and from the Porquerolles island can only be discovered on site
Your servant now free from its chains....
---