Opening oysters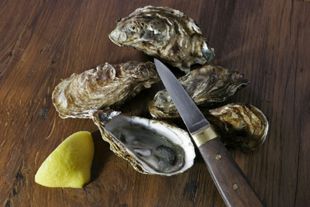 Traditional activity during the Christmas and New Year celebrations, the opening of oysters remains a dangerous technical gesture if not properly executed. Here are some advices to avoid accidents.
The number of accidents subsequent to this activity in France is estimated to 2,000 per year.
For once with household accidents, the primary victims are men (63% of such accidents) and even careless observers can be victims of an uncontrolled gesture of the knife user ...
So, in order to avoid spoiling the end of the year celebrations, here are a few advices :
1/ Prepare your workplan the appropriate way
2/ Use an oyster knife
3/ Use a protection for the side of the hand
4/ And the most obvious, ask a professional to open your oysters... every one to his own trade !
Opening technique :
1- Place the oyster in the hand that is protected with a cloth, the pointed part of the oyster towards you.
2- Position your rigid blade knife taking it by the blade (at 1 to 2 centimeters - half an inch - from the pointed end of the oyster) at the 2/3 of the height of the oyster.
3-
Without forcing it
introduce 1 or 2 centimeters (half an inch) of the knife, gently, in the oyster in order to cut the muscle that keep the two parts of the shell together.
Your oyster can now be easily opened and can offer to the connoisseurs of it its unique taste. And now a few pictures to illustrate our intention. Many thanks to Patrick Asfaux who took the opportunity of a few holidays in Oléron (note of the translator : island in Brittany, famous for the culture of oysters) to pay a visit to chef Richard Boré who runs a restaurant along the channel of Cayenne and whose expert hands you can see below :
Now find 3 somewhat original recipes you could make for your end of year meals :
-
Oysters in a Chablis jelly and watercress cream
-
Hot oysters, zucchinis and Jurançon sabayon with Raz El Hanout
-
Hot oysters in a Sauternes sabayon
2 addresses of restaurants where you can go on our behalf :
Restaurant « La Claire »
Voie de la Cayenne
BP 60038
17320 Marennes (France)
Phone :+33 (0)5 46 36 78 92
Fax :+33 (0)5 46 47 20 17
Chef Richard Boré
And to order your specially fattened greenish oysters (« Fines de Claire »):
Aline and Yannick Dubuy
La cabane de Claire
BP 80067
17320 Marennes (France)
Phone : +33 (0)5 46 47 93 43
Fax : +33 (0)5 46 75 14 73
lebancdaline@orange.fr
---