Prepare you home-made 'foie gras'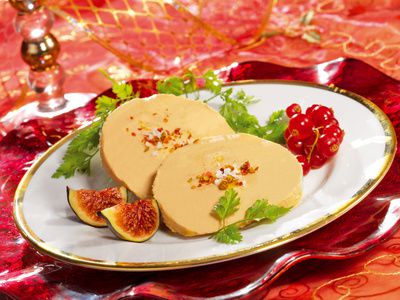 If you have visited our site for some time, I bet you have, one day, desired to prepare your home-made 'foie gras'.
Maybe you actually did it. Today, we deliver to you some technical advices and tricks so that you can cook this exceptional product.
First thing is how to choose one's raw foie gras. It must have a nice colo(u)r, from the ivory beige to a yellow ochre, according to the food of the palmiped bird (note of the transalator : white or yellow corn). A good trick is to make a pressure on the fat liver with the thumb : if the print stays after you have removed your thumb, that's fine. You also need to know that the right weight of a duck fat liver is between 1.1 and 1.4 pounds : below or above, you can wonder about the origin and the quality of the liver! Now that you have a fresh (or vacuum packed) raw foie gras, you will have to execute the most difficult task before cooking your foie gras : deveining it.
In order to make it easier, the foie gras needs to be at room temperature.
And now, here is the technique to remove the veins of the liver (refer to pictures) :
- separate the 2 lobes, then remove the thin skin that covers the liver.
- incise the above side of the big lobe.
- with a not too sharp knife (like a vegetable peeler), find the thick deep vein that runs through the center of the big lobe and pull it out.
- do the same with the small lobe.
- inspect if a few aponeurosis(*) remain then put the liver on a flat board.
Your foie gras is now ready for cooking. We offer you 2 recipes, one for duck liver and one for goose liver. Beware : those 2 products to not behave the same way during their cooking so do prepare duck foie gras using a recipe for terrine of pâté of goose foie gras...
>>
Home made duck foie gras
>>
Goose foie gras terrine
(*) aponeurosis - named like this by the Ancient Greeks (note of the translator : "apo" means "white" and "neurosis" means "nerves" in ancient Greek language) because they considered that any white parts were nerve expansion. Anyway, we call, today, aponeurosis a kind of a large or not so large white shiny satin tight and slightly stretchy membrane, very strong and mainly composed of beams of cellular tissue fibres
---