Duck foie gras
From the one star french chef Patrick Asfaux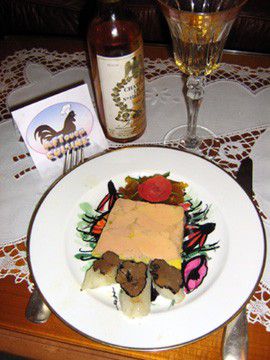 Prepare time :
Cooking time :
Total time :
A nice duck 'foie gras' for 6 servings
- a nice 1.3 pound duck raw foie gras

- a bottle of Sauternes

- 2 teapoons of table salt

- some freshly ground white pepper
Progression
The day before :
1)
Remove the veins of the foie gras
.
2) Put the 2 lobes into a salad bowl, season them with salt and pepper and pour a swig of wine between each layer, and then cover the bowl with a cling film and keep it into the fridge during a minimum of one night.
The day of cooking :
1) Pre-heat the oven (300°F)
2) in the bottom of a china terrine, first put the big lobe (round/external part below then put the rest of the liver above arranging in a quincunx up to the top, then smooth out with an iron spatula and cover with the lid.
3) Fill a baking tray with very hot water on the bottom of which you have first put a sheet of a newspaper (to avoid bubbles when water is boiling) and put the terrine on it (1/3 of the terrine must be in water).
Cooking :
1) Have a look after the first 35 minutes : when the foie gras had rendered enough fat for covering it, the cooking is ended.
You then need to transfer the terrine directly into chilled water (in a basin full of cold water and ice in such a quantity that the level of the water terrine must be at the 3/4 of the height of the terrine) and leave it in water during 15 minutes (the fat of the liver will then be blocked and the cooking stopped very shortly.
Final step :
Put the terrine into the fridge and start tasting it 48 hours after so that the tastes can melt well.
Do not forget to put a small piece of cling film each time you make a slice and then put the terrine back into the fridge.
On the picture, this duck foie gras is served with slices of Jerusalem artichokes and of fresh black truffles ...
(*) If you see some blood spots, lay the foie gras under chilled water
credits photo : © Asfaux Patrick - A.F.Touch