French bean salad
From the one star french chef Patrick Asfaux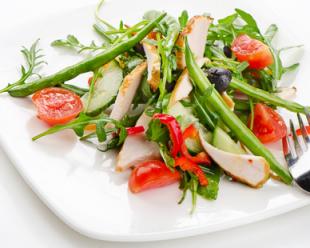 Prepare time :
Cooking time :
Total time :
This is a recipe adequate for persons suffering from type 2-diabetes


French bean salad for 4 to 6 persons :
500 grams (1 lb) French beans

50 grams (1.5 oz) pitted and coarsely chopped black olives

2 cooked chicken wings,skinned and diced up

3 spring onions, the bulb finely chopped and greens coarsely chopped

6 centiliters (1.5 fl.oz) rapeseed oil

4 centiliters cider vinegar

table salt and freshly ground black pepper
Progression
1/Bring to the boil 5 liters (1 big gallon) of salted water), do not cover . At boiling point, put the beans and start testing them 4 minutes after the water has come back to the boil. Keep testing every minute
2/when cooked "al dente", drain them, pour them in a large bowl filled with cold water and ice, leave them to cool down for 3 minutes and drain them
3/prepare the dressing in a salad bowl with vinegar, salt, pepper, then add the oil, onions (white and green - keep some green for garnishing), chicken dice, olives, then the beans and toss the lot.
4/top with some green of the onions and keep into the fridge for at least 1 hour before eating
credits photo : © Couet Ivan - A.F.Touch