Crepes
From the one star french chef Patrick Asfaux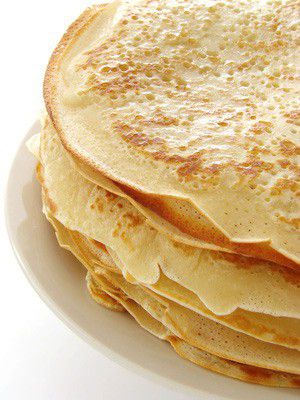 Prepare time :
Cooking time :
Total time :
Almost everyone has his/her own crepes recipe, this is mine. It has the advantage to be neutral and gives good results.


Recipe for about 15 crepes:
250g strong flour

4 whole eggs, beaten

1 pinch of salt

60g butter

50cl milk or 25cl water and 25cl water

30g caster sugar+alcohol if making sweet ones
Progression
1) Heat up the butter in a pot until golden brown and pass it through a fine sieve.
2) In a large bowl, put your flour and salt. Then, mix in the beaten eggs and when done start incorporating the milk. Finish by adding on the butter.
3) Cover your batter with a clean cloth and allow to rest for at least 2 hours.
4) Right before cooking your crepes, give your batter a good stir. Some pastry chefs like to add in a stiff egg white.
There you go your are, now, ready to cook your crepes on a slightly oiled, hot pan.
credits photo : © DLeonis - Fotolia.com