Chocolate and Hazelnuts Crepes
From the one star french chef Patrick Asfaux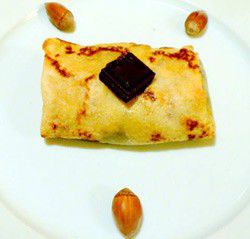 Prepare time :
Cooking time :
Total time :
Recipe for 15 chocolate and hazelnuts crepes
Progression
1) Place your crepes (pancakes) on a clean surface. Spoon some dark chocolate cream onto their centre. Then, sprinkle some hazelnuts and add another spoon of cream on the top of it.
2) Fold the top and bottom parts of each crepe towards the centre. Then fold the left and right hand side of each pancakes in the same way.
3) If your are going to serve them straight away place them on a buttered oven tray and sprinkle them with some icing sugar and put them in the oven at 180'C (356'F) for 10 minutes.
The advantage of this recipe is that you can wrap each stuffed crepes individually and freeze them until needed.
credits photo : © Dubarry Stéphane - A.F.Touch