Fresh cod filets with hazelnuts
From the one star french chef Patrick Asfaux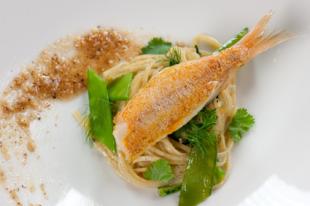 4.8

/

5

(

6

votes)
Prepare time :
Cooking time :
Total time :
Fresh cod steaks/filets breaded with hazelnut powder (6 servings)
6 fresh cod steaks/filets (1/3 to 1/2 of a pound each)

2 soupspoons of wheat flour

1 egg

1/3 of a pound of hazelnut powder

a few crushed hazelnuts

1 cup of liquid cream

olive oil, butter

the juice of one lemon

a few chopped fresh herbs

table salt, freshly ground black pepper
Progression
1. Prepare 3 dishes : 2 teaspoons of flour in the first one, 1 beaten egg mixed with 1 teaspoon of olive oil in the second one and hazelnut powder in the third one.
2. Salt the cod filets and coat them on both sides successively in the 3 dishes (after the first one, tap the fish filets to get rid of the excess of flour).
3. Heat a frying pan with little butter and 1 olive oil teaspoon and when melt and slightly brown, cook the fish during 5 minutes on each side (carefully check that it does not burn). This way of cooking is called "à la meunière" in French.
4. In the meantime, pour in a saucepan the cream, lemon juice, a few crushed hazelnuts, reduce it to half quantity and then add the chopped fresh herbs.
Serve the fish in the middle on nice dishes and its sauce with the crushes hazelnuts all around. 'Bon appétit' !
credits photo : © Couet Ivan - A.F.Touch