Fresh Cod Brandade with Green Asparagus
From the one star french chef Patrick Asfaux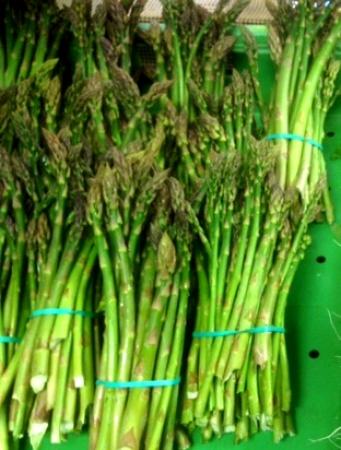 4.0

/

5

(

4

votes)
Prepare time :
Cooking time :
Total time :
Fresh Cod Brandade for 4 guests
700 gr of fresh cod fillets

½ lt of milk

1 bayleaf

one small pinch of dried thyme flowers

4 garlic cloves (preferably the "rose de Lautrec" variety)

10 cl of olive oil

1 bunch of green asparagus (450 gr)

100 gr of black pitted olives

3 or 4 large spinach leaves

20 cl dairy cream

salt, freshly ground pepper
Progression
Put some water with salt to boil.
Peel the asparagus, tie them together and boil them making sure they remain firm and crunchy. Cool them using some cold water and set aside.
Put the milk, garlic cloves (whole and degermed), bayleaf, thyme, salt and pepper in a saucepan and cook for 5 min (WARNING: Be careful to ALWAYS add 1 tbsp water when you boil milk in order to avoid it from sticking to the bottom of the pan).
Once this mixture is hot, cook the cod in it. Bring everything to a boil again and then remove from the heat. Wait 15 min before draining.
Set the garlic cloves aside in a small plate.
Mix the cod fillets (careful with the bones), the precooked garlic cloves, some, salt, some pepper, 5cl of cream and the olive oil in a blender for 15 secondes ( not any more than this ) and pour this into a saucepan.
Cut off the green tips of the asparagus and set aside. Slice, as thinly as possible, the asparagus stalks and add them to the Brandade.
To make the sauce, boil the cream. Season with salt and pepper and a pinch of chopped garlic. Add the spinach leaves. Bring to a boil once again, mix in the blender and set aside in a bain marie.
Chop the black olives very finely and set aside.
Sauté your asparagus tips in some butter for 10 seconds, just enough to reheat them.
Composition: Heat the brandade and then use a round cutter to place some of it on 4 elegant plates (preferably in a dark coulour). Cover each of these small brandade "cakes" with chopped olives and then sink a the base of each asparagus tip into the brandade so that they stand upward. Surround this with the green sauce.
The beauty of this coulourful dish and its taste will delight your guests during a festive meal.