Green Tomato Jam
From the one star french chef Patrick Asfaux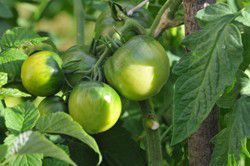 4.9

/

5

(

50

votes)
Prepare time :
Cooking time :
Total time :
In the Falls there are always few green tomatoes left on the stem. Why not using them to make this tasty jam recipe ?

To know all about jam making read our piece : confitures


ingredients for our green tomato jam recipe :
1.8kg green tomatoes

the juice of a lemon

800g jam sugar or 1kg of granulated sugar
Progression
1) Bring a pot of water to the boil.
2) Meanwhile, take the peduncle out and slightly score the skin with a sharp knife. Plunge them into the boiling water for 10 seconds and put them straight away into some iced cold water. Strain them and peel your fruits.
3) Quarter the tomatoes and get rid of the seeds. Dice up the tomatoes, weight them and put them in your copper jam pan. Add the same amount of sugar as the weight of the tomatoes (-20% if using jam sugar) and the lemon juice.
4) Place a plate into the fridge.
5) Start cooking your jam slowly. After 6 minutes of cooking if using jam sugar and 15 minutes if using granulated sugar test your jam using the plate in the fridge. Pour a few drops of jam onto the plate and if it sets almost straight away it is done. Otherwise, prolong the cooking a little while longer.
6) Pour the hot jam into your jars and close them, tightly and put them upside down to cool down. Leave them like so, until completely cold.
credits photo : © Jeff Alcaras