Normandy style apple fritters
From the one star french chef Patrick Asfaux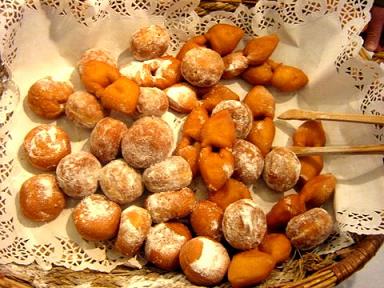 5.0

/

5

(

5

votes)
Prepare time :
Cooking time :
Total time :
serves 6 :
For the batter :

250 grams strong flour (half a pound)

1 pinch of table salt

1/4 litre of lager

3 eggs (separated)

1 soup spoon of grapeseed oil

For the filling of the doughnuts :

1 kilogram (2 pounds) of apples

1 soup spoon of dry apple brandy (Calvados) except if you make doughnuts for children of course !

3 soup spoon of caster sugar

Icing sugar

Very clean frying oil
Progression
1. Peel and core the apples and cut them in 1/2 inch thick slices. Put them on a dish and sprinkle caster sugar (and eventually apple brandy) on them. Cover with a cling film and put into the fridge.
2. Prepare the batter : pour the flour in a salad bowl, make a 'fountain' (hole in the middle), add the beaten yolks (like for an omelette) and the table salt then progressively pour the bier while blending with (incorporating in) the flour. Leave it during 15 minutes at room temperature and covered with a napkin.
3. Heat the frying oil to 350°F.
4. In the meantime, whisk the whites of the eggs with a pinch of salt until they form peaks then gently incorporate them into the former stuff with a wooden spatula as if you were preparing a soufflé.
5. Carefully dip the apple slices one by one into the batter then into the frying oil (a small number at a time). When they are browned of both sides, put them on a soaking paper, sprinkle with icing sugar and put them on a dish that can bear the heat of an oven.
6. Put the dish in the hot oven for a few minutes just before eating the fritters.
When drinking a bowl of traditional cider with it, you will discover Normandy ...
credits photo : © Asfaux.Patrick- A.F.Touch-cuisine