Apple Turnover
From the one star french chef Patrick Asfaux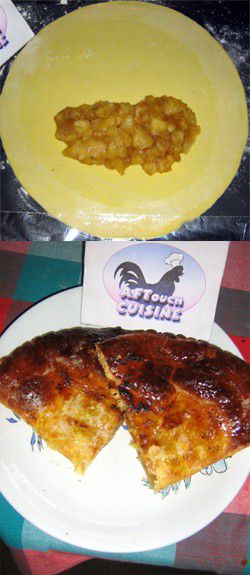 4.8

/

5

(

13

votes)
Prepare time :
Cooking time :
Total time :
Why not bake a large one?


Large apple turnover for 4 to 6 people :
400g puff pastry

For the compote :

300g cooking apple, peeled, cored and diced up

30g butter

30g caster sugar

a pinch ground cinnamon

some icing sugar

For the egg wash :

1 egg yolk 1 Tbs cold water
Progression
1) Heat up the butter in a pot and add the apples, sugar and cinnamon.
2) Cook the apples for 5 to 6 minutes and clear them on a tray to cool down.
3) Next, roll down your puff pastry onto a slightly dusted surface until you get a disc of dough about 40 cm in diameter and 3 mm thick.
4) Brush a little bit of water over the edges of your disc of dough.
5) Place your compote over one half of the disc making sure to leave about 2 cm of clear dough on the edge. Then, fold the other half of the disc on the top of the compote.
6) Start your oven at 210'C (410'F).
7) Place your apple turnover on a baking tray. Then, press the edges of the disc with your fingers to seal your pie.
8) Finish by applying the egg wash all over the apple turnover with a pastry brush.
9) Take an office knife and make few small holes into the dough to allow the steam inside to get out when cooking.
10) Bake for 15 minutes. Then, take it out of the oven and dust the apple turnover with icing sugar and bake for another 5 minutes.
11) Allow to rest for 10 minutes and serve warm.
credits photo : © Asfaux Patrick - A.F.Touch