Aubergine Gateau
From the one star french chef Patrick Asfaux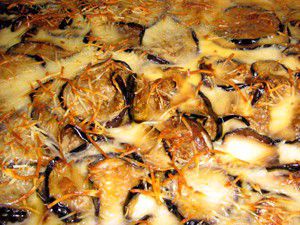 Prepare time :
Cooking time :
Total time :
This a very old recipe from the south of France that I rediscovered a little while ago.


Aubergine gateau recipe for 6 people :
3 Aubergines (eggplants)

1 thick slice of bread

3 cloves of garlic, peeled, cored, crushed and finely chopped

1 small bundle parsley

some milk

2 egg yolks

2 egg whites

4 Tbs olive oil

4 fillets of anchovies in olive oil
Progression
1) Trim each ends of the aubergines and slice them in pieces about 2 cm thick in the length. Then, cut each slices in their width into pieces 2 cm wide. Sprinkle some table salt over them and set aside for 15 minutes.
2) Dry the aubergines cubes with some kitchen paper.
3) Heat up 3 spoons of olive oil in a large frying pan and pan fry the aubergine pieces until golden brown. Season with some pepper (no salt though!). Set aside on some kitchen paper.
4) Start your oven at 200'c (392'F).
5) Place your bread onto a shallow plate and pour some milk over it and wait until all the liquid has been absorbed.
6) Place your aubergines, garlic, soaked bread parsley and the anchovies onto a chopping board. Then, using a large chopping knife chop the lot until you get a homogeneous paste.
7) Pour the aubergine paste into a bowl. Season well with salt and pepper. Stir in the egg yolks.
8) Whisk the egg whites until stiff and fold them into the eggplant mixture.
9) Line a nice ceramic dish with some olive oil and pour the aubergine mixture in it. Bake for 20 minutes.

Serve this aubergine gateau with a nice mixed salad or a nice roast of lamb and a slightly spiced tomato sauce. Accompany this meal with a glass of fresh Bandol rose wine.