Gateau Battu
From the one star french chef Patrick Asfaux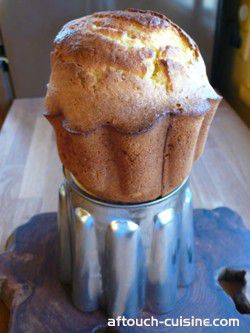 Prepare time :
Cooking time :
Total time :
Gateau Battu recipe for 6 guests
7 eggs

150 gr of butter, softened

250 gr of flour

150 gr of caster sugar

35 gr of yeast in 5 cl of WARM milk

3 cl d'juniper brandy (if the cake is for children you may substitute this with 3 cl of orange tree essence)
Progression
Put the flour in a large mixing bowl and dig a hole in the center. Add the milk and the diluted yeast, as well as the juniper brandy.
Mix together manually until you form a ball of dough. Cover the dough with a cloth napkin and leave it to rest for 2 hours at room temperature (so that it doubles in volume).
Manually blend in the 7 egg yolks, the sugar and the softened butter.
Beat the egg whites until stiff. Gently fold in the whites into the batter progressively. Be careful to lift the wooden spatula each time you stir.
Fill a cake pan (Tefal or Flexipan) halfway and leave to rest for 1 hour.
Turn on the oven at a temperature of 325°F (160° C or th 6). Cook the cake in the oven for 50 minutes.
This cake may be kept for some time. Here is a suggestion for children, big and small: Put one on top of the other (like a sandwich) one slice of cake spread with Nutella, another slice spread with butter, one slice on top. Cut in two to make 2 small triangles. Serve this cake with a nice cup of creamy hot chocolate. A perfect evening snack.
credits photo : © Dubarry stéphane - A.F.Touch-cuisine