Pumpkin 'surprise' pancakes
From the one star french chef Patrick Asfaux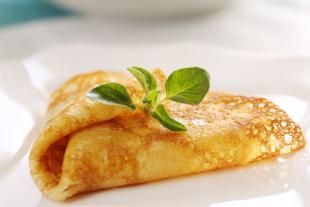 Prepare time :
Cooking time :
Total time :
For approximately 40 pancakes

For the pancakes mixture
250 grams (1.1 lb) wheat flour

3 eggs (yolks and whites) beaten in omelette

1/4 litre (approx. half a pint) milk

1/4 litre water

60 grams (2 oz) butter 'meunière' (melted and cooked until slightly browned)

50 grams caster sugar

1 pinch of table salt

For the 'surprise' :

400 grams (14 oz) peeled pumpkin cut into big cubes

1/2 litre (approx. 1 pint) milk

3 egg yolks

100 grams (3.5 oz) caster sugar

120 grams (4 oz) sifted wheat flour

2 small paper bags of vanilla sugar

A few tablespoon full of icing sugar
Progression
1/Heat up the butter
2/In the meantime, prepare the pancake mixture : mix flour with eggs, then add sugar, salt, milk and water and stir well to get rid of any lumps (if you still have some, use a blender) and then, add the butter 'meunière'. Keep the mixture aside during at least 2 hours before using it
3/Prepare the pumpkin 'surprise' : make the milk boiling, then add the pumpkin cubes in it and cook them during 4 minutes. In the meantime, put the yolks into a salad bowl, then add the sugar (the standard caster one and the vanilla one), stir well and then add the flour and continue stirring. Drain the pumpkin cubes (keep them aside) and add the milk in which the pumpkin has cooked into the salad bowl ; stir well and transfer the whole into the saucepan on the hob. Stir well with a whip during 1 minute starting at the boiling point. Take the saucepan out of the hob, add the pumpkin cubes and blend with an electric blender during 10 seconds. Pour the mixture onto a plate and sprinkle some icing sugar on it in order to avoid having a crust when cooling down.
4/ Cook the pancakes as usual ; 10 minutes before serving them, pour, on half of each pancakes 1 tablespoon full of pumpkin cream, fold the pancakes in 2 by its diameter, put them on a buttered cooking plate, spread some icing sugar on them and put them into the oven (heated at 320°F) during 3 to 4 minutes.
5/Serve the pancakes on a plate, with, for instance, a custard blended with a little apricot jam around and some crushed hazelnuts
Do not tell your guests about the ingredients you have used : they will imagine mango, papaya, apricot, ... Only tell the truth after they told you you it was good !... A guaranteed success ...
credits photo : Patrick.Asfaux© A.F.Touch