Emmental souffle pancakes
From the one star french chef Patrick Asfaux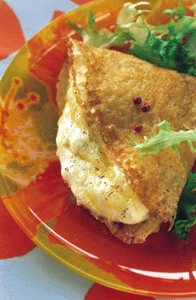 4.7

/

5

(

3

votes)
Prepare time :
Cooking time :
Total time :
Recipe for 4 people:
Pancake batter:

220g strong flour

40g buckwheat flour

1/2l milk

3 eggs

50g butter

salt and pepper

Soufflé mix:

100g grated emmental cheese

4 whole eggs

50g potato starch

a pinch 4 spices

salt and pepper
Progression
Accompaniment :
Mixed leaves and for the dressing :2 Tbs rapeseed oil, 1 Tbs lemon juice, salt and pepper.
First of all, make your pancake batter:
1) sift the strong flour into a bowl and stir in the eggs and milk. Then, add in the buckwheat flour and melted butter. Season with salt and pepper. Mix well and get rid of the lumps if any. Cover your bowl and allow the batter to rest for 30 minutes.
2) Cook your crepes on a hot pan and set them aside.
Next the soufflé mix :
3) Start your oven at 210'C (410'F).
4) Separate the yolks from the whites of your eggs. Whisk the egg whites until stiff and firm. Then, carefully fold in the potato starch, the egg yolks and cheese, in that order, and season well.
5) Place few crepes onto a clean surface and put 2 tablespoons of soufflé mix on one half of each crepes and fold them, "like a wallet", onto the mix. Repeat until all the crepes have been used up.
6)Place your filled crepes onto a greased baking tray and cook them for 7 minutes.
Serve immediately along with the seasoned mixed leaves.
credits photo : SIGF/F mantovani