Emmental Cheese Tarte with Apricots and Fennel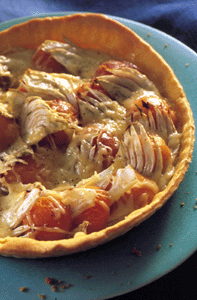 4.7

/

5

(

3

votes)
Prepare time :
Cooking time :
Total time :
Recipe for 4 guests
Preparation time
10 minutes

Cooking time: 35 à 40 minutes

Ingredients:

For the shortcut pastry:

250 g of flour

1 egg

100 g of butter

1 pinch of salt

A bit of flour

For the garnish:

250 g Grated French Emmental cheese

1 fennel

100 g of apricots (fresh or frozen)

50 g almonds, powdered

2 tablespoon spicy oil (in which an Espelette chilli pepper has been kept)
Progression
For the shortcut pastry:
Mix the partially melted butter with the flour. Dig a hole in the middle: add an egg in the middle. Add salt. Work the dough. If it is too dry you may add some water. Keep working the dough until it becomes firm and until it is well blended. Pat in order to make a ball with the dough and place it in a plastic bag in the fridge for 30 minutes. During this time prepare the tart filling.
For the filling:
Wash the fennel, peel it and cut it into thin slices.
Wash the apricots and cut them in four.
Preheat the oven at a temperature of 350°F (180°C or th6).
Roll down the pastry and place it in a flan dish. Prick it with a fork in several places. Add the powdered almonds. Add the fennel and the apricot pieces. Sprinkle with a large amount of emmental cheese. Pour a dash of spicy oil. Cook in the oven for 35 to 40 minutes. Serve hot.
Our cook's touch: We may also add some fennel grains in order to bring up the aniseed taste of this dish.
credits photo : SIGF/F mantovani.