Cheese Fondue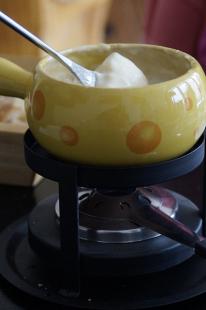 4.8

/

5

(

12

votes)
Prepare time :
Cooking time :
Total time :
The recipe is originally Swiss and is called Fondue moitié-moitié (half-half).

Cheese Fondue pour 6 personnes
600 g (1.3 pounds) Gruyère cheese

600 g (1.3 pounds) Fribroug Vacherin cheese

600 ml (almost one bottle of wine) of white wine

5 dl of white wine (fendant if you can find it)

4 teaspoons of potato flour (or corn flour) with 5 cl of Kirsch (a cherry brandy)

1 cloves of garlic

Poivre du moulin et râpure de muscade
Progression
1-Cut out your bread in section.
2-Rub the interior of your caquelon with the clove of garlic cut into two and leave it in the caquelon then.
3-Heat the white wine in the caquelon with soft fire.
4-Pepper, add a nutmeg râpure and pour your grated cheeses or half-compartments into small pieces.
5-Stir up unceasingly with your spatula. It is very important that your cheese does not attach. If the fondue is too thick you can dilute it with a little dry white wine.
6-Juste before present your fondue, to add your potato flour diluted in 5 kirsch Cl. and stir up last once.
7-Once your caquelon on its stove with soft fire to respect the texture of the vacherin (use an electric stove, or if you do not have any, a flammable gel) your guests cut out with the hand of the small pieces of bread which they prick on the forks with molten and plunge then in cheese…
For those which do not know yet this splendid country which is Switzerland, taste this receipt and I guarantee that your next holidays could bring you well in country helvète…
credits photo : © Ewa Kubicka