Ray wing and Leek Bake
From the one star french chef Patrick Asfaux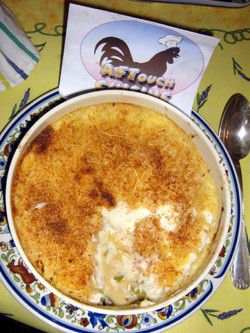 4.8

/

5

(

16

votes)
Prepare time :
Cooking time :
Total time :
Ray wing and leek bake recipe for 6 :
2 kg of ray (also known as skate) or 6 wings

2 litres water

4 dl vinegar

3 nice white of leeks, opened and thoroughly washed, and finely sliced.

1/2 litre of bechamel sauce

1 dl sweet white wine

100g grated gruyere cheese

50g butter

2 egg yolk

18g salt

5 crushed peppercorn

1 sprig of thyme

2 bay leaves

freshly ground pepper

a pinch of nutmeg
Progression
1) In a pot (wide enough to take six ray wings), bring to the boil the water along side the vinegar, thyme, bay leaves, cracked pepper and the salt and allow to cook for 5 minutes.
2) Put your ray wings into the boiling liquid and cook them for 8 minutes (after the water has come to the boil again).
3) Meanwhile, in a thick bottom pot, melt the butter down. Then add the sliced leeks, season with salt, pepper and nutmeg and allow to cook gently (do not let them take any colouring), covered for 15 minutes.
4) Using a skimmer, take your cooked ray wings out of their pot. Place them on some kitchen paper, skin them, on both side. Take the flesh of the bone (on both sides) with a pallet knife and set it aside.
5) Heat up your béchamel sauce, add the wine, 50g of gruyere cheese, then stir in, very quickly, the egg yolks.
6) Pre-heat your grill or broiler.
7) In a deep oven dish, place the leek fondue at the bottom, then the fish, and cover with the sauce. Then sprinkle with the rest of the cheese and place the lot under the grill for 7 minutes.
8) Serve piping hot.
This mix of flavours is nature's wonder!
Try this recipe and let me know!
credits photo : © Asfaux Patrick - A.F.Touch