Seared Foie Gras with Mirabelle Plum
From the one star french chef Patrick Asfaux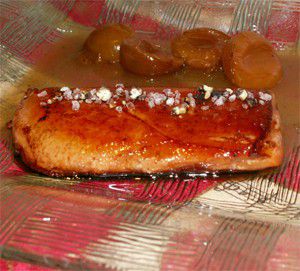 Prepare time :
Cooking time :
Total time :
Despite being a bit on the expensive side - I admit, this is a very tasty and simple recipe.


Seared foie gras with mirabelle plum for six people :
6 slices of raw duck foie gras of 80g each.

500g frozen pitted mirabelle plums

For sweet and sour sauce

5cl red wine vinegar

1 tablespoon of honey

10cl orange juice

5g mixed spices

2dl veal stock

Garnishing

5g "fleur de sel"

5g cracked pepper
Progression
1) Put your 6 slices of foie gras on a platte and put them in the freezer for 15 minutes.
2) Meanwhile, pour the vinegar and honey in a saucepan and cook until caramelised. Then, add the orange juice and allow to reduce for few minutes. Add the veal stock and mixed spices. Reduce by half on a medium heat for 7-8 minutes.
3) Taste the sauce and add the plums, stir for a while and take your pot off the heat, set aside covered.
4) Season your slices of foie gras with salt and pepper. Heat up a frying pan and sear the foie gras for 2 minutes on each side. Quickly set them aside on some kitchen paper.
Arrangement:
Place each slices of foie gras on hot plattes, then spoon few plum along with some sauce all around them. Top each slices of foie gras with a tiny pinch of "fleur de sel" and cracked pepper.
The key to this recipe is speed and organisation.
credits photo : © Couet Ivan - A.F.Touch