Orange, grapefruit and red onion salad
From the one star french chef Patrick Asfaux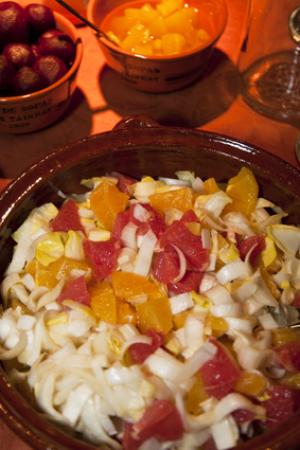 Prepare time :
Cooking time :
Total time :
This recipe comes from our special Canadian menu
Orange, grapefruit and red onion salad recipe for 4 people :

2 oranges

1 grapefruit

2 lg red onions

20 g chopped and roasted hazelnuts

1 endive

some French dressing
Progression
Set up :
1) Finely slice your onions and place them in a bowl of iced water for 10 minutes in the fridge.
Meanwhile, peel and slice your oranges and grapefruit (make sure not to leave any pith) and place them in two separate bowls.
2) Drain your onions and wash your endive.
Arrangement
Make a "star" like lay out with the endive's leaves. Then, place some orange on each of them. Top them up with some red onion and finish with the slices of grapefruit.
Drizzle some French dressing on the lot and finish by sprinkling some hazelnut all over.
You'll see that pass the first impression of your guests, they will enjoy this simple dish.
And if you want to make this recipe a bit more festive add few dices of cooked Canadian lobster to the salad. It is simply divine!
credits photo : fruit salad © crimson