Onion and Blackcurrant Jam
From the one star french chef Patrick Asfaux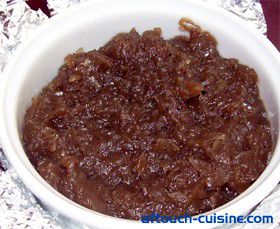 5.0

/

5

(

5

votes)
Prepare time :
Cooking time :
Total time :
recipe for a nice jar of onion and blackcurrant jam
500g onion, peeled

80g butter

100g caster sugar

5cl blackcurrant liqueur

15cl red wine

7cl red wine vinegar

salt and freshly ground pepper
Progression
Description
1) Heat up your butter in a cast iron pot. Meanwhile, finely slice your onions.
2) When the butter has reach a golden blond colour, add your onions and season with salt and pepper. Then, add the sugar.
3) Cover and allow to gently cook for 35 minutes, stirring from time to time.
4) Then, take the lid of your pot and add the blackcurrant liqueur, vinegar and wine and let the lot slowly cook for another 30 minutes.
5) When done, taste the seasoning of your jam. Rectify it if required and pour the jam into a nice ceramic jar.
This jam recipe, served hot, makes a great accompaniment for a braised pork fillets or served cold as a garnish of a nice pate...
credits photo : © epicerie.les-notes-bleues - A.F.Touch