Lobster mousse, black Muscat cream
From the one star french chef Patrick Asfaux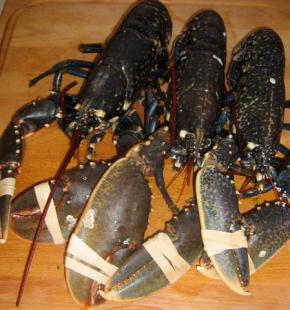 Prepare time :
Cooking time :
Total time :
Repos : 1 heures
Lobster mousse for 6 people :
1 lobster of 600g

400g of whitting fillets, pinboned

3 eggs

3 dl creme fraiche

1 bundle of chives

pinch cayenne pepper

salt

:

3 dl of black Muscat wine

3 dl double cream

1 finely chopped shallot

2 dl fish stock

1 nob of butter

Garnish

:

100g of frozen peas
Progression
Cooking the lobster :
Bring 2 litres of water with 25g of salt, a bay leaf, thyme, an onion pricked with a clove and few peppercorns to the boil.
Plunge your live lobster into the boiling water. Cook for 12 minutes for 500g and 25 minutes for a kilo.

Directions:
1) Put the fish fillets into a food processor along with the cream, the eggs salt and pepper and reduce them into a fine pure.
2) Using a spatula fold in the finely chopped chives, the meat from the lobster claws and the red bits (coral)from the back of the head of the lobster. Cover and put in the fridge.
3) Start your oven at 180C (356F).
4) In a medium size tin, using a palet knife cover the bottom and sides of the tin with some of the fish mixture. Put the chopped lobster flesh in the middle and top up with the rest of the fish mix. Put your tin in a bain-marie(double boiler) and cook in the oven for 45 minutes.
5) Meanwhile, sweat off the shallot in a saucepan, for 2-3 minutes. Add the wine and the cream, allow to reduce by half. Next add the fish stock and reduce by a 1/3. Blitz the sauce, season to taste and pass it through a fine sieve. Set aside in a bain-marie.
6) Plunge the frozen peas in some boiling salted water. Cool them down straight away in iced water. Strain them and set aside in a small bowl.
7) To test if you lobster mousse is cooked, do it the usual way, plunge the tip of an office knife into the mousse and it must come out dry and hot. When the mousse is done, allow it to rest for about 10 minutes before cutting 6 thick slices.
8) Pour half of the sauce into a separate pot and heat up the peas in it.

Arrangement:
Place a slice of lobster mousse at the center of each plattes, spoon some of the sauce with the peas around them and the rest of the sauce to the side.