Roasted brill fillet with spinach
From the one star french chef Patrick Asfaux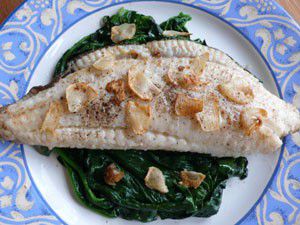 Prepare time :
Cooking time :
Total time :
recipe adequate for persons suffering from type2-diabetes

4 fillets of brill (or halibut or turbot) of 5 to 6 oz each

8 fresh pink (if possible - if white, get rid of the germs) garlic cloves, thinly sliced in petals

1 kilogram (2.2 lb) fresh spinach, cleaned into 3 different waters, without the stockes and well drained

5 centiliters (1.5 lq oz) olive oil + 5 centiliters grape seed oil

10 grams (1/3 oz) butter

table salt and freshly ground black pepper
Progression
1/in a teflon frying pan, pour half of the blended oils and add the butter and when hot, roast the fish 4 minutes on each side without burning the fat, season and keep out of the hob. Put the fish on a small plate and keep it hot, covered with metal (aluminium) film
2/put again the pan on th hob and when hot, pour the garlic and roast it during 2 or 3 minutes without burning it and then keep it on absorbing paper
3/ in a large casserole pot, pour the other half of blended oils, then when nearly smoking, pour the spinach, add little salt and pepper and blend with a spatula. After 1 minute, when just melt, keep them aside
Presentation:
on each hot dish, put in the middle 1/4 of the smoking spinach, put on top one roasted fish fillet and decorate with the sweet garlic petals.
This very simple recipe will be appreciated by every guest
credits photo : © Dubarry Stéphane - A.F.Touch