Lamb Tajine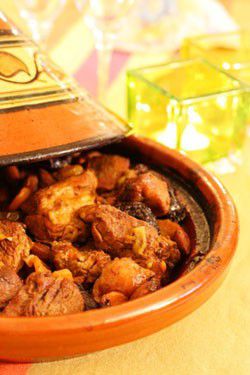 Prepare time :
Cooking time :
Total time :
The "tajine" (or "tagine" is both the word for the dish (as a main course) and for the clay pot that is used in North Africa for cooking the dish.
There are so many variations aound this recipe that in order to keep a good relationship with everyone, I will deliver a standard recipe which is in the "middle" of all trends.

For 6 persons
1 kilogram (2.2 lb) lamb boneless shoulder, cut into 1 inch long cubes

1 sliced onion

50 grams (1.5 oz) dry raisins

50 grams (1.5 oz) peeled almonds

1/2 liter beef stock

1 large soupspoonful liquid honey

1 soupspoonful ras-el-hanout (blend of 27 different oriental spices

table salt

3 soupspoonfuls olive oil

fresh coriander leaves
Progression
1/Heat 2 soupspoonfuls olive oil into a large cooking pan and when heated, roast in it the meat (add some salt) until browned during 2-3 minutes.
2/Add the sliced onion and gently cooked covered with a lid during 2 minutes, then add the honey, ras-el-hanout and the dry raisins, stir well then pour the beef stock
3/When the stock is boiling, control and ajust (if needed) the seasoning and let it gently cook during 50 minutes.
4/In the meantime, heat the 3rd soupspoonful olive oil into a frying pan and roast into it the almonds during 2 minutes, then drain them and keep them aside
5/Pre-heat the oven at 170°C (338°F)
6/Pour the lamb stew into your tajine pot, add the almonds and a little chopped fresh coriander leaves, cover with the tajine lid and put into the oven during 50 minutes
Serve your lamb tajine on the middle of the table, with a dish of fine "couscous".
Chef Shabi Battikh is not only a friend of mines : he is also the bright chef of the Sofitel Pal Beach hotel in Djerba (Tunisia)
credits photo : © tilo - Fotolia.com