Browned scallops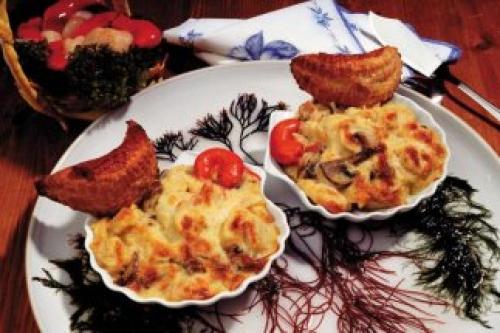 Prepare time :
Cooking time :
Total time :
Browned sea scallops For 4 persons
150 g of small button mushrooms

8 sea scallops (without the coral part)

1/2 liter of dry white wine

1 kg of mussels

1 tablespoon of flour

2 tablespoons of fresh cream

50 g of butter

1/2 yellow lemon

breadcrumbs
Progression
Roast ine butter the mushrooms. Make the mussels opened in a large pan on strong heat on the hob, then remove their shells, filter the juice. Poach during 6 - 7 minutes the scallops (removed from their shells) in the wine with salt and pepper. Drain them, reserve the liquid of cooking.
Make a light brown "roux" with 1 tablespoon of flour and 50 g of butter, dilute little by little with the juice of cooking of the mussels and of the scallops. Let it thicken under slow heat during 10 minutes. Add 2 tablespoons of thick cream, the lemon juice, adjust seasoning. In 4 hollow scallop shells, distribute mushrooms, mussels and scallops.
Coat with the sauce, sprinkle breadcrumbs, put a pat of butter on top and make it gratinate (brown).