Creme Caramel
From the one star french chef Patrick Asfaux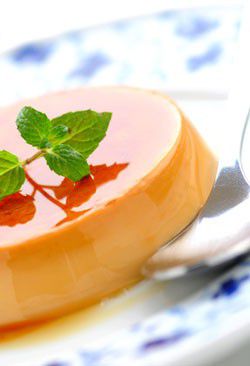 Prepare time :
Cooking time :
Total time :
Classic recipe that has been appreciated by all since generations.


creme caramel recipe for 4 to 6 people :
60g sugar lump

5cl water

1/2l whole milk

4 eggs

1 vanilla pod

125g caster sugar
Progression
1) Place your sugar lumps and water into a thick bottom pot and cook until obtaining a golden blond caramel.
Line a ceramic dish (for 4-6 people) with the caramel, on all sides (be careful not to burn yourself with the caramel!).
2) Start your oven at 150'C (302'F).
3) Bring your milk to the boil along with the vanilla pod halved. Take your pot off the heat and allow to infuse for 2 minutes, covered.
4) Meanwhile, whisk the eggs with the caster sugar.
5) Pour the piping hot milk onto the eggs. Stir well making sure not to make too much foam. Then, slowly pour the mixture through a fine sieve into your "caramelized" dish.
6) Prepare a double boiler (bain-marie) in which you place a sheet of news paper at the bottom of the tray to avoid that the water boils. Place your dish in it and bake for 30 minutes.
Test your creme caramel by pricking it with the blade of an office knife. It should come out clean and hot.
When cooked, allow to cool down and place it in the fridge for at least 2 hours before eating your creme caramel.
credits photo : ©-emmi---Fotolia.com