Lemon Cake
From the one star french chef Patrick Asfaux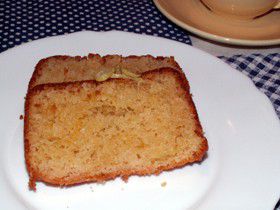 Prepare time :
Cooking time :
Total time :
This summery recipe is an ideal accompaniment to ice-creams, sorbet or fruit soups for example...


Lemon cake recipe for 6 people :
125g soft butter

150g caster sugar

140g strong flour

15g baking powder

The rinds of a lemon (non treated)

The juice of a lemon

2 eggs
Progression
1) Start your oven at 170 degrees Celsius (338'F)
2) Peel your lemon with a sharp knife, making sure not to catch the white skin under the rind. Cut them into very fine batons (julienne). Squeeze the lemon afterwards.
3) In a large bowl, place the butter and work it with sugar until the mixture turns slightly white. Then, add the beaten eggs and half of the lemon juice*. Finally, incorporate the flour, baking powder and lemon rinds using a wooden spoon.
4) Pour the batter into a tin and put it in the oven.
5) Bake for 40 minutes*
The trick to this recipe is to pour the rest of the lemon juice onto the cake around 5 minutes to the end of the baking process. It will, nicely, bring up the flavour of lemon.
credits photo : © Couet Ivan - A.F.Touch