Lemon sole
From the one star french chef Patrick Asfaux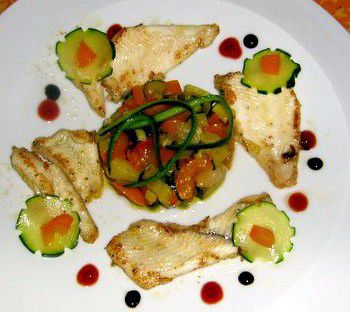 Prepare time :
Cooking time :
Total time :
A simple, tasty and cheap recipe : lemon sole "meuniere" with stewed cucumber, yellow pepper and black olives.
Recipe also known as Jocelynaise, small city of Brittany.


Lemon sole "meuniere" recipe for 4 people :
16 fillets of lemon sole

1 tbs of plain flour mixed with a tbs of dried bread crumb and a pinch of curry powder

1 medium cucumber

1 yellow pepper, halved, de-seeded and diced up

50 pitted black olives, chopped

1 clove of garlic, crushed

olive oil and butter

some slightly spice tomato sauce

a hint of balsamic vinegar reduction
Progression
1) 30 minutes before your meal :
In a small cast iron pot sweat off the pepper in some olive oil. Season well and allow to gently cook, covered, for 6 minutes. Then, add the diced up cucumber, crushed garlic and black olives. Cook for 5 more minutes, covered. Add few slices of splined cucumber, cover and take your pot of the heat.
2) Place your fillets of fish on a clean surface and season with salt and pepper. Then, sprinkle some of the flour/ bread crumb mixture on the lemon sole.
3) Heat up a good knob of butter as well as some olive oil until golden brown in a frying pan. Then, cook the fish fillets for 1 minute on each sides. Cover, take of the heat and set aside.
4) Take 4 hot plates and set some of the stewed vegetables at the centre using a small ring. Place 4 fillets of lemon sole around it, along with some of the cooking butter. Finish each plates with few dots of tomato sauce and balsamic reduction around the plate.
I thought of this recipe to remind gourmands that cucumbers can be used in hot dishes like it was in several old traditional recipes.
credits photo : © Asfaux Patrick - A.F.Touch