Mirabelle cake
From the one star french chef Patrick Asfaux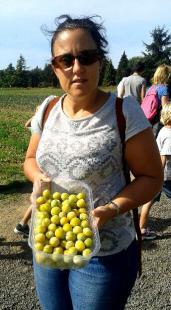 Prepare time :
Cooking time :
Total time :
Mirabelle cake serve 6
150 g of flour

40 cl milk

180 g of caster sugar

1 sachet or dose of baking powder

6 eggs

5 cl of rapeseed oil

1 sachet or dose of vanilla sugar

500 g of pitted mirabelle plums
Progression
Butter a deep flan dish and place the pitted mirabelle plums in it. Store in the fridge.
Heat the oven at a temperature of 350°F (180°C or th6).
Beat the eggs and sugar together, add the rapeseed oil and the milk.
Mix the flour and the baking powder together and then pour in the egg and sugar mixture, folding it in with the help of a wooden spatula.
Pour the mixture over the mirabelle plums and cook for 45 minutes.
Serve your mirabelle cake warm or cold. Sprinkle some icing sugar on it. You may also cook this dessert in small baking molds and serve it in a platter with toffee custard creme and a scoop of vanilla ice cream.