French Fries
From the one star french chef Patrick Asfaux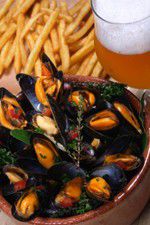 Prepare time :
Cooking time :
Total time :
rench fries or "pomme Pont-Neuf" are probably the most popular french recipe. But, they are not always cooked properly. So, there is a recipe that will give you the best French fries results possible, every time.
Progression
Recipe
1) Peel, wash, and cut your potatoes into "batons" of 3 1/2 inches long and a 1/4 inch thick. Make sure to choose potatoes suitable for frying, sometimes known as chipper potatoes, type maris piper.
2) Heat your fryer to 180C/356F, then carefully plunge a small amount of French fries (of the same thickness) and cook them for 4-5 minutes. Strain them and set them aside. Repeat this step until all your potatoes are done.
3) Just before serving them, heat up your fryer to 190C/ 374F and finish to cook your French fries, in small load. Your "pomme Pont-Neuf" are cooked when they have a golden colour and crispy texture.
4) When done, place them on some kitchen paper and season them with some table salt and serve them straight away.
Your French fries will be a great accompaniment to all grilled meat or fish, try them with mussels!
credits photo : ©-Natalya-Korolevskaya