Walnut Cake
From the one star french chef Patrick Asfaux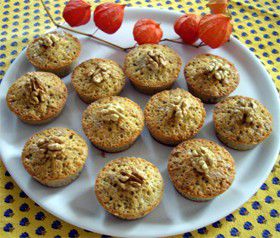 Prepare time :
Cooking time :
Total time :
Walnut cake recipe for 6 people
130g soft butter

260g caster sugar

5 eggs

120g ground almonds

120g finely chopped walnuts

3cl dark rum

80g strong flour
Progression
1) Start your oven at 200'C (392'F)
2) Take a large bowl and put your butter in it. Add the sugar, mix well and add in the eggs one by one. Then, fold in the ground almonds, walnuts, rum and the flour.
3) Pour your mix in a round baking tin and bake for 40 minutes. Your cake is cooked when pricked with the tip of an office knife the blade comes out hot and dry.
Allow your walnut cake to cool down for 45 minutes before taking it out of the tin.
I suggest to serve some vanilla custard with your walnut cake.
credits photo : © Colette Groulade - A.F.Touch