Spices for poultry
From the one star french chef Patrick Asfaux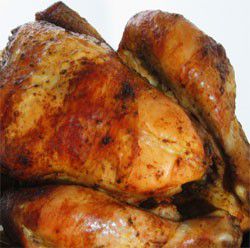 4.7

/

5

(

6

votes)
Prepare time :
Cooking time :
Total time :
In the kitchen of every good restaurant, one prepares in advance a seasoning that is used for roasted meat and/or for terrines ('pâtés')in order to enhance the taste of them.
Each chef has its own seasoning recipe which, of course, is better than the one of the others !
Below is mine, not too strong.

Put in a blender (you can adjust the quantities to your own use so that you can store it but keep the proportions)
500 grams of table salt

55 grams of ground white pepper

15 grams of nutmeg powder

10 grams of paprika

5 grams of dry oregano

5 grams of rosemary
Progression
1. Mix during 1 minute so that all spices are well blended (if you do it with the hands, you will sneeze a lot !)
2. Sift the blend in a sieve, put in hermetic boxes and store in a dry cupboard at least during 15 days so that the fragances merge well
3. Prepare 2 boxes and make a new preparation when the first box is empty...
When you guests will find that your poultry has a taste and a fragance only found in good restaurants, tell them that this is a family secret ...
credits photo : © Dariusz Sas - FOTOLIA