Redberries Syllabub
From the one star french chef Patrick Asfaux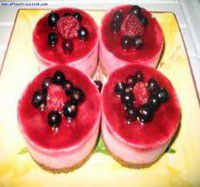 5.0

/

5

(

4

votes)
Prepare time :
Cooking time :
Total time :
Recipe for 6 people :
4 Greek style, natural yoghurt

100g strawberries

100g raspberries

50g blackcurrants

100g blackberries

50g redcurrants

1/2 lemon juice

1 bunch fresh mint

25g pink peppercorns
Progression
1) Put the thoroughly washed fruits, except half of the strawberries, half of the raspberries and the redcurrants (that you will need for garnishing the glasses at the end), as well as the yoghurts and 5 or 6 leaves of mint (finely chopped), in a food processor. Blitz for about 20 seconds.
2) Fill, half way up six nice glasses. Put on top of each them some of the strawberries (cut in small dices) and raspberries that you have left over. Finely top up, each glasses with the rest of the yoghurt mixture.
3) Arrangement
Arrange the berries, that you kept on the side at the begining of the recipe, with some mint leaves in a nice patern on the top of each glasses. Finish each glasses with a sprinkle of few pink peppercorns.
This is delicious: each flavours complements well each others and the crunchy pink peppercorns give this lovely summery dessert an interesting peppery twist.
credits photo : lulu199981