Macaroons with jam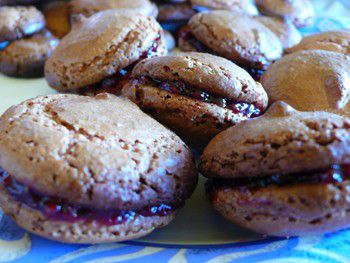 4.9

/

5

(

19

votes)
Prepare time :
Cooking time :
Total time :
For this quick recipe, I didn't quite follow the recipe (excellent and on the site) for chef patrick's macaroons: as I stuff them with jam, I omit the honey so as not to multiply the flavors and I mount the whites.


For a small plate of macaroons with jam:
125 g ground almonds

160g icing sugar

1 tsp caster sugar

1 sachet of vanilla sugar

1/2 jar of raspberry jam or other (more if you are surrounded by young gourmands when assembling the macaroons)

2 or 3 egg whites (depending on
Progression
1/ Sift together the icing and vanilla sugars and the ground almonds and mix thoroughly (a 2nd sifting would be ideal)
2/Turn on the oven (160 to 180°c (th6) depending on the expected size of the macaroons)
3/ Beat the egg whites not too tightly (they should barely "beak") and incorporate the caster sugar after sprinkling a little before the end of the assembly of the egg whites
4/Gently fold the mixture from step 1/ into the egg whites with a wooden spatula (place the egg whites on the mixture and not the other way around) according to the usual precautions
5/ Place the mixture in a pocket fitted with a plain nozzle (see precautions in the chouquettes recipe on the site on a sheet of parchment paper on a baking sheet or directly on a flexipan sheet
6/ Tap (without turning it over!) the bottom of the baking sheet to even out the heaps of macaron batter and break down the tips (which I didn't do - see photo!) and bake for 12 to 20 minutes depending on the diameter of the macaroons (3 to 5 cm) . refer to chef Patrick's recipe for the end of cooking
7/When the macaroons have cooled down, place a small spoon of very cold jam in a dome in the center of the flat part of a macaroon, without going to the edges and place another macaron on top; press gently to evenly distribute the jam to the edge of the macaroon and do the same for all the macaroons.
And There you go. I made these macaroons last Saturday with homemade raspberry jam because I needed to free up jars from last season for my first strawberries...
credits photo : ©Dubarry-A.F.Touch