Madeleine
From the one star french chef Patrick Asfaux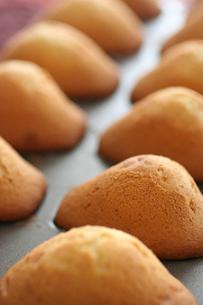 Prepare time :
Cooking time :
Total time :
Makes 1 dozen Madeleine
3 eggs

50 g of milk

200 g of caster sugar

1 tsp vanilla sugar

250 g of strong flour

1 tsp baking powder

125 g of butter
Progression
Mix the eggs, milk, sugar, flour, vanilla sugar and baking powder. Once the batter is well blended you may add the melted butter. Continue mixing for 1 minute. Leave it to rest for at least 2 hours, at room temperature.
Preheat the oven to 425°F (220°C) for 10 min.
Line the moulds with some butter and fill them up halfway, cook in the oven for 6 minutes at 450°F (240°C)and then for 4 minutes at 400°F (200°C).
Serve warm or cold.
You may obtain another variant of these madeleine cakes by incorporating chocolate powder to the original batter.
credits photo : Patrick.Asfaux© A.F.Touch