Glazed Loin of Lamb
From the one star french chef Patrick Asfaux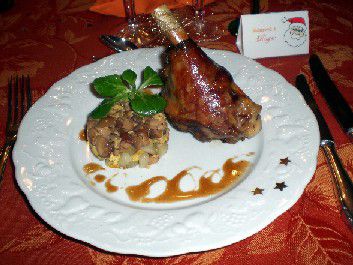 4.9

/

5

(

49

votes)
Prepare time :
Cooking time :
Total time :
Loin of lamb, glazed with red Martini. Recipe for 8 people
8 pieces of loin of lamb of about 120g each (about 4.5 Oz)

For the vegetable stock:

1 leek, thoroughly washed.

200g carrots peeled and roughly chopped.

200g onions, roughly chopped

3 cloves of garlic, crushed

a small bunch of thyme

1 baie leaf

4g cracked pepper

7g rock salt

Accompaniments:

500g of ceps (fresh, tinned or frozen)

400g Jerusalem artichokes, cut in small dices

2 finely chopped shallots

3 egg yolks

10 cc double cream

Salt, freshly ground pepper

Red Martini caramel:

20g caster sugar

5 cc red wine vinegar

10 cc red Martini

10g butter

1/2l veal stock
Progression
1) Take a cast iron pot, place all the ingredients for the vegetable stock in, cover with some cold water. Bring to the boil and let simmer for 10 minutes.
2) Place your pieces of loin of lamb into the stock. Make sure that they remain covered at all time. If necessary add in a little bit of water. Cover and cook gently for 20 to 25 minutes. When done Take the lamb out and set aside on a rack.
3) Heat up a frying pan with a bit of cooking oil (duck fat, would be even better). Stir-fry the ceps (cut in medium size dices) until they reach a nice golden color. Season well, then add the shallots. Cook for a further 2 minutes, then strain the mushrooms and set aside.
4) Cook the Jerusalem artichoke in the same way.
5) In a salad bowl, mix the egg yolks and the cream together with some salt and pepper (you could add a little bit of cooked foie gras if you happen to have some in your fridge. It would be divine!).
6) Pre-heat your oven to 180 degrees Centigrade (gas mark6 or 350F)
7) Take 8 medium size, individual, oven dishes and pour a bit of the egg-cream mixture. Put a layer of cooked cep, then a layer of cooked Jerusalem artichokes. Repeat the operation until te dishes are 2/3 full. Then, top up with more egg mix. Cook in the oven in a bain-marie (double boiler) for 25 minutes at a constant temperature.
8) Lets prepare our red Martini caramel. In a pot, place the sugar and the vinegar. Cook this mixture until it reaches the point of caramelization (until it starts to become slightly golden). Then, add in the Martini, reduce down for 2 minutes. Add the veal stock and allow to reduce for a further 2 minutes. Take your pot off the heat and whick in the butter in parcels. Keep warm in a double boiler.
9) Place your cooked pieces of lamb and put them on an oven tray. Increase the temperature of your oven to 210 degrees centigrade (gas mark7, 410F).
10) Using a small ladle, coat each pieces of lamb with a little bit of the caramel sauce. Put in the oven. Repeat the coating operation every 5 minutes for another 30 minutes. You will be able to see the lamb gradualy take a nice caramel like coloration. Note that you should have about half of the caramel sauce left over at the end of the glazing operations.
11) Arrangement: Take 8 nice plates (preferably white) and place one piece of glazed lamb to one side. Then, take out of its mold a cep and Jerusalem artichoke "gateau" and place it on the opposite side of the plate, put a small sprig of tarragon on the top of it. Pour a ribbon of the caramel sauce all around the inside of each plattes.
Serve with a steak knife, sit and listen to the silence in the room as everybody enjoy their red Martini glazed loin of lamb...
Note that you can cook everything the day before and have it ready "in two shakes of a lamb's tail" on the day of your party . You will just have to re-heat the lamb for 20 minutes at 180 degrees centigrade (gas mark6, 350F) covered in a cast iron pot, in the same oven put the mushroom and Jerusalem "gateaux" left in their dishes in a bain-marie for 10 minutes this time. As for the sauce, heat it up just before serving your main course or you can keep it in a double boiler until serving time.
credits photo : © Adèle - A.F.Touch