Marengo Veal Sauté
From the one star french chef Patrick Asfaux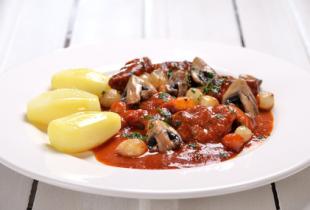 4.9

/

5

(

48

votes)
Prepare time :
Cooking time :
Total time :
For 6 guests
1 kg and 200 gr of veal shoulder cut into 50 gr pieces

2 large onions

1 carrots, diced

2 garlic cloves, crushed

1 bouquet garni

500 gr of tomatoes, peeled, seeded and diced

30 gr of tomato concentrate

20 cl of white wine

300 gr of pearl onions

300 gr of mushrooms ("champignons de paris"), sliced

18 BF15 potatoes

Some oil and some butter
Progression
Turn on the oven at 425°F (210°C or th7).
Put a walnut-sized piece of butter in a skillet as well as 2 tablespoons oil. Once they become hot proceed to brown the meat on each side. Add the diced carrot, the 2 large onions, the garlic and the bouquet garni and gently cook for 10min. Add the tomatoes and the tomato concentrate. Cook gently for another 5 min and then add the white wine. Leave to cook another 5 min and then civer the meat with water or stock. Season with fine salt and freshly ground pepper and cook in the oven for 1 hour.
During this time proceed to peel the onions. Place them on a flat dish with a bit of butter, 1 tablespoon sugar, salt and pepper. COver with water and cook until the onions start caramelizing.
Sauté the mushrooms on another skillet. Season with salt and pepepr and set aside.
After approximately 1 hour, remove the meat from the dish, remove any fat and blend the sauce. Pour it into another dish. Check the seasoning and then add the meat and the mushrooms along with the onions and keep hot (oven turned on at 80°C).
Prepare your potatoes English style (if you do not know how to do this, try to give them a lengthened shape when peeling them). Put the potatoes in some cold water and then boil them for 10 minutes. Drain.
Take half a litre of sauce and cook the potatoes in it fo 15 minutes. Next, add the potatoes to the sauté.
Serve on a nice plate, surrounded with potatoes and som heart-shaped croutons and sprinkle some fresh parsley over the composition.
You may substitute the potatoes with some fresh tagliatelle or some sauteed carrots.
If you like to be a bit more exotic you may substitute the potatoes by adding some last minute orange juice, a dash of vinegar and some sauteed firm soja sprouts!
credits photo : Sauté de veau Marengo © Michael Nivelet