Roast Lamb Shoulder in an Angel Hair Crust
From the one star french chef Patrick Asfaux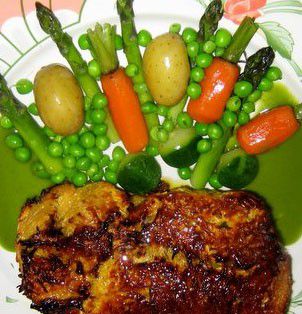 Prepare time :
Cooking time :
Total time :
roast lamb shoulder in an angel hair crust recipe for 6 people :
1 lamb shoulder, boned and rolled of 1.2kg-1.3kg. Make sure to keep the bones.

Angel hair crust

250g angel hair pasta, cooked and dried well.

3 eggs

1 Tbs liquid honey

1 tsp fresh thyme and fresh wild thyme

salt and cayenne pepper

The vegetables

300g baby carrots

1 bundle green asparagus

300g garden peas

200g baby potatoes

2 small courgettes

The sauce

2 cloves of garlic

1 shallot

1 carrot

a sprig of thyme and a bay leaf

butter and olive oil

the crushed bone of your lamb shoulder
Progression
The day before
1) Start your oven at 200'C (392'F)
2) Place an oven tray onto the stove and heat up a bit of butter and olive oil. Season your lamb shoulder well and colour it on all sides in the hot tray. Add the sauce garnish : bones, carrots, shallot, garlic and thyme around the lamb shoulder.
3) Then, put your tray into the oven for 8 minutes. When done, take your tray out. Remove some of the fat and place a small plate into the tray to put your lamb shoulder to rest on the top of it. Next pour 15cl of water into the tray.
4) Meanwhile, we will prepare our vegetables :
peel and trim your carrots (keep about of 5 cm of leaves), cut your asparagus at an angle, in pieces of 7-8cm long and cut your courgettes in batons (or in small balls made with a parisienne spoon).
5) Get a large bowl filled with cold water and ice. Then, place a pot with 2l of water and a hand full of rock salt onto the heat and cook your baby potato and carrots until done (check from time to time if cooked). When done plunge them into the iced cold water.
In the same pot cook your asparagus and courgette batons for 3 minutes and cool them down in the iced water. Finally, cook the peas for 5 minutes, cool them down as for the rest of the vegetables. Strain the lot and put all the cooked vegetables onto a oven tray, covered, in the fridge.
6) Set your leg of lamb aside and pass your gravy through a fine sieve crushing well the garlic. Put the lot in the fridge.
On the day
An hour before the meal
7) Prepare the angel hair crust.
In a bowl, place your cooked angel hair pasta. Make a well and add the beaten eggs, honey, herbs and seasoning.
Mix well until you get some kind of a "dough", cover and put in the fridge.
8) Start your oven at 220'C (428'F).
9) Spread a piece of cling film 45 cm long onto a clean surface. Put your angel hair pasta's mixture at the centre on all the cling film's length. Place a second sheet of cling film on the top of it and roll the mixture down until you reach 1/2cm of thickness.
10) Remove the top sheet of cling film and place your leg of lamb at the centre. Roll the lot together and discard the last piece of cling film.
11) Place your roast onto an oven tray and drizzle a bit of olive oil over it. Cook for 12 minutes. If at the end of the 12 minutes, your crust has not reach a crispy, golden blond state grill it for a minute or two.
12) When done take your roast out and leave it to the side covered with a piece of tin foil.
13) To heat up your vegetables bring up to the boil some water with a good pinch of salt. When it' s time to serve your leg of lamb, plunge your vegetables in this water for a minute.
14) While the water comes to the boil. heat up your gravy.
15) Service time : heat up your vegetables and season them well with salt, pepper and a drizzle of olive oil. Place them nicely around your serving dish. Carve your leg of lamb in slices about 2 cm thick with a carving knife. Finally, serve your gravy in a sauce boat, on the side.
I must apologise for this long, detailed recipe, but I, as always, try to give you as much guidance as I can to ensure that you make a success of this recipe.
credits photo : © Asfaux patrick - A.F.Touch