Veal Stock
From the one star french chef Patrick Asfaux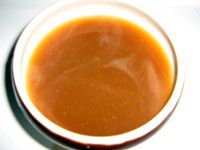 4.8

/

5

(

40

votes)
Prepare time :
Cooking time :
Total time :
There is the original veal stock recipe. Despite the fact that nowadays powdered veal stock has become widely available, nothing comes close to fresh homemade stock. To make this recipe worth while, it is better to make 2 litres of stock. Then take what you need on the day and put the rest in the freezer in small containers such has ice cube bags, yoghurt pot, etc.

For 2 litres of veal stock sauce
2 kg (4 lb) veal bones

2 carrots

3 onions

3 cloves

4g (2 tea spoons) cracked pepper
Progression
Ask your butcher for 2 kg of veal bones, put then on a rosting tray, then add two carrots as well as two onions cut into a mirepoix (big cubes). Roast them for 1/2 hour at 220 degrees (gas mark 7, 430F).
Meanwhile, in a large pot bring 6 litres (14 pt) of water as well as a bouquet garni, the last of the onion with the cloves pricked into it and the cracked pepper to the boil. Make sur not to put any salt at this stage.
Take your bones out the oven: the bones and the mirepoix must be roasted. With a skimmer, put them into the bouillon.
Take your roasting tray, carefuly get rid off the fat and with a bit of bouillon, scrap the bottom of the tray to disolve the meat juices. Pour this liquid into the pot.
Gently simmer your stock for 4 hours, skimming it regularly. Strain your stock and set it aside.
If you wish to have a concentrated stock, called demi-glaze, reduce your stock by 1/2.