Chou pastry
From the one star french chef Patrick Asfaux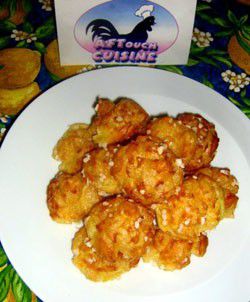 4.8

/

5

(

66

votes)
Prepare time :
Cooking time :
Total time :
ith this pastry, you will able to prepare profiteroles, éclairs, cream puffs, chou buns coated with sugar and others….

For 20 éclairs

2 fl oz water

2 fl oz milk

2 oz butter

1 tsp caster sugar

1 tsp table salt

2.5 oz strong flour

3 eggs

a little icing sugar
Progression
1/ pre-heat the oven at 428°F
2/ in a thick bottom pot, pour the water, milk, salt, sugar and the butter cut in parcels and bring to the boil.
3/ when boiling, add the flour in one go and stir energetically, while still on the hob for 2 minutes until the dough stop sticking to the pot. Then, put it into a bowl.
4/ Fold the eggs one by one until the pastry is homogeneous
5/ pour the chou pastry into a piping bag mounted with a 4/5 inch diameter nozzle and form éclairs or buns (according to what you want to prepare) on a Teflon cooking tray or parchment and sprinkle them with a little icing sugar.
6/ Keep an eye on the baking process : the first minute at 428°F then slightly open the door of the oven and continue cooking during 15 minutes at 392°F
Let the chou cool down before filling (or not, depending what you want to prepare) them with cream or chocolate or coffee custard or chantilly cream etc…
credits photo : © Asfaux Patrick - A.F.Touch