Braised Chicory with Emmental Cheese
From the one star french chef Patrick Asfaux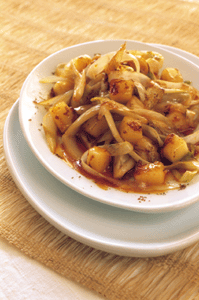 Prepare time :
Cooking time :
Total time :
WITH CUMINSEED HONEY...


Recipe for 4 guests
Preparation time
20 minutes

Ingredients:

100 g of French Emmental cheese, diced

3 chicories

2 tbsp. of peanut oil

2 tbsp. of honey

1 pinch of cumin seeds

Salt and pepper
Progression
Wash the chicories and slice them lengthwise very thinly. Fry them in a very hot pan for several seconds with 2 tablespoons oil. Once the chicories have become transparent, set aside and keep them hot.
Pour the honey and add the cumin in the frying pan. Let reduce for 3 minutes. Next, add the chicories and the Emmental cheese.
Cook gently for 2 minutes. Add salt and pepper and serve immediately.
credits photo : SIGF/F mantovani.