Veal Chops
From the one star french chef Patrick Asfaux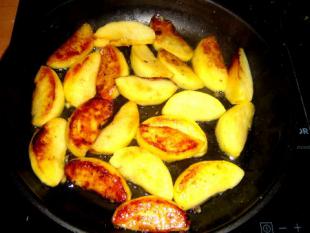 Prepare time :
Cooking time :
Total time :
This old traditional French recipe has become out of fashion in French restaurant or at family dinner. I do not understant why, as it is a very simple and delicious recipe.

Recipe for 6 people
6 Thick veal chops of 200g each.

200 ml double cream

100 ml of reduced veal stock

250g button mushrooms

2 shallots, finely chopped

50 ml calvados (apple brandy)

few sprigs of chives

a nob of butter

some vegetable oil

3 apples, peeled, cored and quatered

butter

salt and freshly ground pepper
Progression
1) In cast iron pot, cook your chops for five minutes on each side in some butter and a tiny bit of vegetable oil. Then, set them aside.
2) In the same pot, gently cook the shallots for a minute or two. Then, add the calvados, about a minute later add the cream and the veal stock and finaly the finely sliced mushrooms.
3) Allow to cook for about 3 minutes and put your chops back into your pot. Season well and let them cook for another ten minutes on a medium heat.
4) Meanwhile, sauté your quaters of apple with a bit of butter in a non-stick pan. Season well. Set aside in a hot place.

Arrangements:
Place a veal chop in the center of a large plate. Coat it with a bit of sauce. Place few pieces of apples on the side and finish with a sprinkle of finely chopped chives.

Enjoy your veal chops "Normande" with a nice glass of cider.