Cod Cheeks
From the one star french chef Patrick Asfaux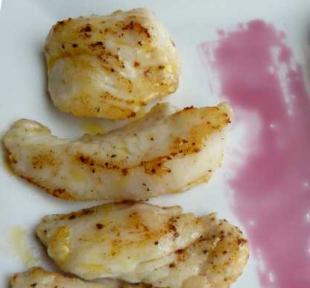 5.0

/

5

(

1

votes)
Prepare time :
Cooking time :
Total time :
With its onion and ratte potato puree

This recipe is from the region of Dunkerque

Cod cheeks recipe for 6 guests
1,5 kg of salted cod cheeks

6 large ratte potatoes (Touquet variety)

3 large sweet onions (Roscoff variety)

2 dl of well seasoned vinaigrette

salt and freshly ground pepper

1 pinch of dried thyme flowers

Parsley
Progression

The day before :
Soak the cod in a large bowl filled with cold water and do not forget to change the water several times.
Next day:
Put the unpeeled onions in cold water. Cover the pot, bring to a boil and cook for 5 min. Then place the onions on a cookie sheet and cook in the oven for 2 hours at a temperature of 325°F (160°C or th5).

Put the cod in cold water and bring to a boil, removing froth from surface. Cook gently for 15 min and remove from the heat.
Drain the cod, remove its skin and throw away.
Separately cook the potatoes –unpeeled) in water with salt, add the thyme flowers and one bayleaf.
During this time prepare your vinaigrette.
Check if the potatoes are ready and finally peel them while they are HOT.
Remove the onions from the oven. Using a sharp knife, cut them in two, widthways, in order to obtain 6 halves.
Hollow the onions out with a spoon and set the flesh aside. Keep the main onion shells.
Put some butter or some oil on a frying pan and sautee the cod. Add the sliced potatoes and season with salt and freshly ground pepper. Finally add the onion puree (the flesh you had set aside).
Place this in a large bowl and pour some vinaigrette to season it, stirring gently.
Place 6 small heaps of coarse salt on a hotplate in order to keep the onion shells upright. Fill them with the cod mixture.
Sprinkle some breadcrumbs on top and place the onions in the oven grill for 5 min.
Serve very hot on elegant plates.
If you are unfortunately unable to find cod cheeks then buy standard salted cod.
Just one additional tip: if you make a potato salad, ALWAYS season them while they are hot. This way they will absorb the seasoning better.
If you season potatoes when they are cold the starch makes the seasoning does not set on the potatoes QED.