Buckwheat Pancakes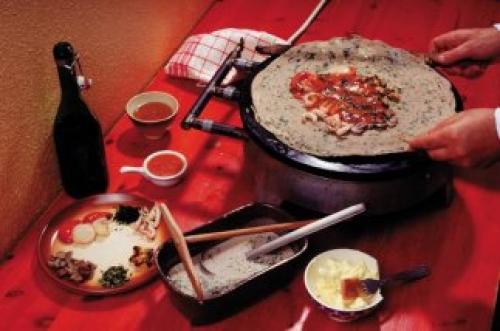 Prepare time :
Cooking time :
Total time :
For 12 buckwheat pancakes
250g of Buckwheat flour

1 Egg

1 Teaspoon of salt

5 dl of water

2 Table spoon of vegetable oil or lard

1/2 dl of beer or water

Salted butter
Progression
Sieve the buckwheat flour into a large bowl, then form a small well in the middle. Break the egg into it and add the salt. Mix these ingredients together while adding the water, the beer and the vegetable oil, little by little.
Whisk energically until the batter becomes homogeneous. Cover and allow to rest for at least 1 hour.
Before cooking the pancakes, add 1/2 decilitre of water into the batter and whisk until the batter gets to the consistency of double cream. Cook the batter in small amounts on a greased pan or on a griddle. Stuff them with the filling of your choice. Eat them with a glass of
cider