Flan
From the one star french chef Patrick Asfaux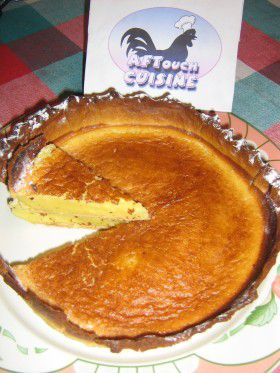 Prepare time :
Cooking time :
Total time :
This is one of the oldest French dessert recipe. The recipe that I am giving you, here, is a basic recipe, feel free to let your imagination wander and experiment.


Flan recipe for 6 people:
500g short crust pastry

90g plain flour

220g caster sugar

2 teaspoons of vanilla sugar

6 whole eggs

80cl milk

20g melted butter

1 pinch of salt
Progression
1) Start your oven at 180C/ 356F.
2) Roll down your dough, prick it with a fork and line a tart mold with it. set aside in the fridge.
3) In a bowl, place the flour and the sugars (caster and vanilla). Add the beaten eggs with the salt, the melted butter, mix well. When this is done, whisk in the cold milk. Make sure that they are no lumps.
4) Fill up the mold lined with the dough, with the egg-milk mixture. Bake for 30 minutes.
If you notice that your flan is starting to burn, cover it with some tin foil.
credits photo : © Asfaux Patrick - A.F.Touch