Duck Gizzards Salad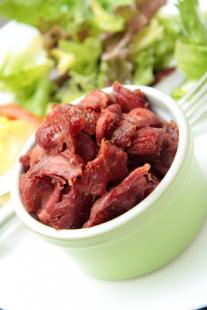 4.8

/

5

(

5

votes)
Prepare time :
Cooking time :
Total time :
Salad for 6 people
300g Confit duck gizzard

18 Slices of baguette

100g Crushed walnuts

1 Clove of garlic

3 Baby gem

2 Table spoon of red wine vinegar

2 Table spoon of walnut oil

Salt and freshly ground pepper
Progression
Direction:
the salads and set aside on a clean kitchen cloth.
Pan fry the walnut on gentle heat. Set aside.
Toast the slices of baguette (1 cm/ 1/3 inch thick) and rub them with the clove of garlic.
Slice the gizzards and slowly heat them up with a bit of duck fat. Keep warm.
Season the salad leaves with the vinegar, then the oil, salt and pepper and the rest of the clove of garlic finely chopped. Gently toss this salad.
Arrangement:
Line up 6 plattes. In the middle place some of the salad leaves, then sprinkle some warm, crushed walnuts on the top of them, place 3 slices of toasted baguette against the little molle of salad leaves and finaly put some of the warm duck gizzards between the toasted bread.
To make this salad a bit "posher" you can add some shavings of foie gras on the top of the gizzards.
A cheaper alternative to duck gizzards is chicken gizzards.
credits photo : gésier © Marc Roche