Golden Eye
From the one star french chef Patrick Asfaux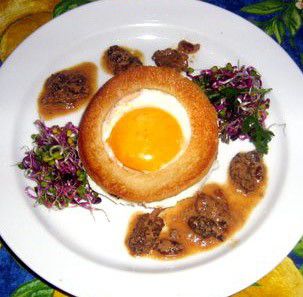 5.0

/

5

(

4

votes)
Prepare time :
Cooking time :
Total time :
Repos : 12 heures
This is a nice starter for the end of the year meals
As I have often said, this recipe is a basis you can fine tune according to your taste and your means

GOLDEN EYE
With morels, pink radish sprouts, hibiscus flower vinegar and oil with crushed roasted hazelnuts

Ingredients for 4 persons
8 large slices (4 x 4 in) of bread

4 very fresh eggs

1 oz dry morels and 3.4 fl oz (1/10 liter) milk

4 slices (1.5 oz each) cooked foie gras

0.3 lb pink radish sprouts

1 small thinly chopped shallot

0.7 oz roasted (dry in a frying pan) hazelnuts, crushed thereafter

3.4 fl oz liquid cream (30% or more fat)

3.4 fl oz veal stock

1.6 oz butter

Oil

1.5 fl oz hibiscus flower vinegar (or old wine vinegar not much acid)

2.7 fl oz hazelnut oil

Table salt and freshly grounded black pepper
Progression
Morning preparation for serving for the dinner of the same day :
1/ Cut your morels in two halves and put them in the milk. Add salt and black pepper
2/ Cut the bread slices in 4 in rounds
3/ Pour 3.4 fl oz oil + a "nut" of butter into a large frying pan and when brown, add the bread slices 2 by 2 to roast them very quickly then soak them on a paper and keep covered aside
4/ After 2 hours in the milk, soak the morels with your hands (so that sand stays in the milk) and sieve carefully the milk.
5/ Into a small pan, pour a little butter, and when melt, add the shallot and the morels and make then "sweat" (gently cook without browning) during 5 minutes. Then add the cream and the sieved milk, let the volume of liquid be divided by 2 (reduction) by evaporation and cooking then add the veal stock. Make it boiling, adjust the seasoning and keep aside out of the heat
6/ Slightly heat (warm only) the hazelnut oil and add the roasted hazelnuts. Cover and keep aside
7/ Take 4 of the 4 inch diameter bread slices and make a 2.5 inch round hole in the center of each of them and take the small rounds away : you have got 4 plain bread rounds and 4 holed bread rounds
By dinner time :
1/ Pre-heat the oven at 248°F and when it is time to eat :
2/ Lay the breads slices down on an oven metal plate, cover them with aluminium paper and put the plate in the middle of the oven
3/ Gently heat the morel sauce
4/ In a salad bowl, prepare the vinaigrette dressing with the vinegar, sela, black pepper, hazelnut oil and roasted hazelnuts, blend with a whip and add the radish sprouts and blend again
5/ In a flat non sticking frying pan, pour a little oil and butter and cook the eggs on one side only
6/ Prepare the dishes : put the hot plain round bread slices on them (one on each dish), put a slice of foie gras on each of them. Put a little salad on each side, the morels ans some sauce all around the morels. Cut the white of the eggs in excess so that you have round fried eggs and put them of top of the foie gras slices. Then put the holed bead slices on the middle of the eggs (refer to the picture) so that we can only see the yolk (the "golden eye).
The difficulty of this recipe is to make it quickly so that each one eat it hot.
If you are successful, when you cut the yolk, it will melt with the soft foie gras and the crunchy bread…
credits photo : © Asfaux patrick - A.F.Touch