Prunes 'far'
From the one star french chef Patrick Asfaux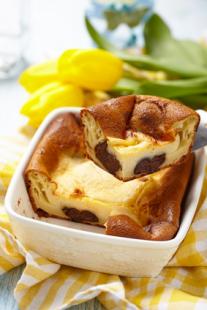 4.6

/

5

(

28

votes)
Prepare time :
Cooking time :
Total time :
6 servings
24 dry cored prunes

1 liter (1/4 gallon) fat milk

6 eggs

180 grams (1/3-1/2 pound) top quality butter

180 grams (1/3-1/2 pound) caster sugar

250 grams (1/2 pound) wheat flour

1 teabag

1 soupspoon of rum (not compulsory)
Progression
1. In the late afternoon of the day before the baking of the cake, put the prunes and the teabag with 1 liter of boiling water in a bowl (plus the rum) and cover with a lid.
2. The day after, heat, in a sauce, the milk (if you first pour 1 teaspoon of cold water, the milk will nit stick at the bottom of the saucepan) with the sugar and the butter. When it is boiling, sieve it and let come down to room temperature.
3. Pre-heat your oven at 350°F
4. Drain the prunes and slightly press them.
5. In a large bowl, beat the eggs as if you were making an omelette and incorporate the flour little by little and blend with a wooden spatula so that lumps are not formed.
6. Incorporate into it the cold milk/butter/sugar mixture then add the prunes.
7. Butter a clay or china large dish with edges, pour your cake mix and cook it in the oven during 45 minutes. You will test that it is fully cooked by inserting the blade of a knife that must be dry when you take it away from the cake.
You can eat this delicious regional (from Brittany) dessert cold, warm or even hot, drinking a good traditional cider.
credits photo : Breton far © azurita