Huckleberry Pie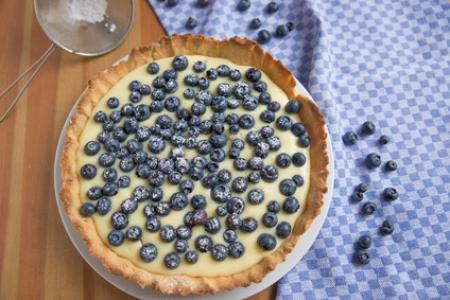 5.0

/

5

(

10

votes)
Prepare time :
Cooking time :
Total time :
Huckleberry Pie for 4/6 persons :
2/3 lb fresh or frozen huckleberries

2 tablespoonfuls huckleberry jam

1 circle (size of you final pie) of rolled-out raw shortbread pastry (note of the translator : English version of this pastry recipe is available on this site)

3 eggs

100 grams (1/4 lb) caster sugar + 1 small bag of vanilla flavoure'd caster sugar

25 grams (1 oz) sieved flour

icing sugar

1/4 liter (8 fl oz) milk

1/10 liter (3 fl oz) liquid cream
Progression
1/Prepare the confectionary custard with the milk, eggs, sugars and flour (note of the translator : English version of this recipe in the site). Keep it aside and sprinkle the icing sugar on it to avoid hardening
2/Pre-heat the oven at 200°C (382°F)
3/Prepare the whipped cream (Chantilly) with chilled liquid cream (5 minutes into the freezer) and icing sugar (1 or 2 tablespoonfuls)
4/Incorporate little by little the Chantilly into the custard by "cutting" the whole with a spatula and keep into the fridge
5/Put the rolled-out raw shortbread onto the pie mould pastry. Cover with a thin sheet of cooking aluminium, then with dry beans and cook during 8 minutes into the oven
6/Gently blend the huckleberries with the jam (if you use frozen berries, blend them and thereafter cook them still frozen
7/Garnish the empty partly cooked pie with the mixed cream/custard and cover an uniform way with the huckleberries
8/Cook into the oven (still at the original temperature) during 2 minutes.
All opportunities are the righ moment for eating this delicious pie
credits photo : © A_Lein